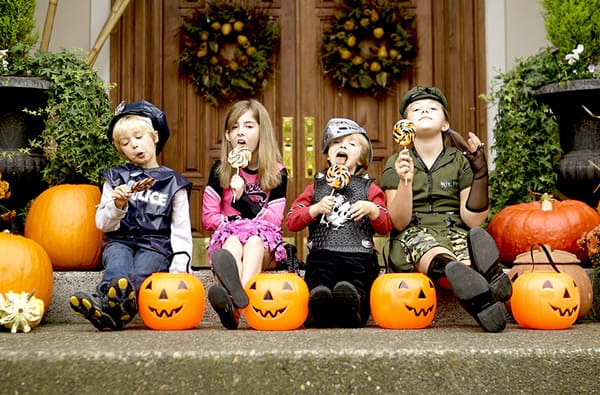 Kids love Halloween but it's the parents who seem to be afraid of all of the candy and the harm it can do to their kids' teeth. When it comes to Halloween candy, chocolate is one of the best options to eat. It melts quickly and washes off teeth easily so there's less chance that cavity producing bacteria will grow. (Keep in mind this is plain chocolate; chocolate with caramel in it will certainly stick to teeth!)
It may seem counter-intuitive, but go ahead and let your kids eat the entire candy bar or little package of candy in one sitting rather than having them eat candy all day long. It's better to eat candy and get it over with so they can then brush their teeth and have a clean mouth, rather than eat little bits of candy continuously throughout the day. If they can't get to a tooth brush then have them eat an apple or other crunchy fruit or vegetable- it will help to clean their mouth.
Eating apples may help clean and brighten teeth besides being nutritious. The slight acidity in apples can act as a mild astringent. But keep the peel on to get this benefit as the fiber in the skin is an effective cleaner. The fleshy fruit with it's high fiber content acts as a natural toothbrush, helping to clean away stains and plaque. Other crunchy fruits and vegetables such as celery and carrots can also work as cleaning mechanisms as they brush against dental plaque and bacteria trying to stick to teeth. The less bacteria, the better your breath and the healthier your mouth.
Did you know that potato chips are actually worse for teeth than some candy? Potato chips will cling to teeth sticking in the nooks and crannies making it the perfect environment for bacteria to grow. Parents don't think of this as most would offer their children potato chips over a chocolate bar. Sugary cereal is another food which can be just as harmful to teeth as candy but one that parents seem to easily overlook.
So don't be scared of Halloween, just be smart about it. There is already plenty of harmful food out there in your children's diets, it doesn't happen to appear only at Halloween. Make smart choices, brush teeth regularly but most of all have fun.
Happy Halloween!!